We'll tell you all about working with us, but it's better to hear from them!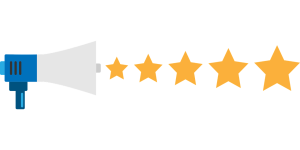 I have worked with Velocity in the past (we go way back) and the customer service and the support are really excellent. Our reps not only update our dashboard timely, but they also send us emails when they feel we need to hone in on one project or specific candidates. Really great customer service. 
I am very impressed at how organized Velocity is and you can tell they really thought about the recruiting process. I felt like they based their process on the customers' needs, and they really strive to perfect customer service. Their system was easy to use and follow. I would recommend Velocity to any company of any size!
Great professional people at Velocity! They really are a partner in identifying high volume of qualified talent. The candidate CRM is an excellent tool to interact with their research team on the talent they have identified. Better resource than staffing firms I've partnered with in the past. I'm excited to partner with them for future needs!
Our team loves working with Velocity! We get quality candidates, A+ customer service, and most importantly, it's a very simple process from beginning to end.
Thank you, Velocity, for all your support! I appreciated the weekly meetings, it helped me keep track of candidates coming in, and the pre-phone screens helped me figure out where to place candidates based on their preferences. Also, I am happy that one of the candidates got a dual offer and was hired!
My experience with Velocity was fantastic. I had a ton of solid leads very early on in the process and was able to move quickly on the perfect candidate. The Velocity team is professional, friendly, responsive and ultimately their sourcing was the game-changer with my open req. I went from very little candidate flow who didn't necessarily meet all the requirements, to many candidates who met all requirements
I have been looking to hire for 6 months without success. Once Velocity got involved the candidates were pouring in. What I liked most about Velocity was their organization of data, making it easy to keep track of the candidates.
"I've worked with Velocity Resource Group for over 10 years in varying industries. Their partnership has been invaluable in times of growth requiring immediate scale in sourcing and recruitment support. From industry knowledge to candidate care to client service, they have delivered what we need again and again."
The team at Velocity delivered results in a very timely manner and were extremely communicative throughout the entire process. I was impressed with the candidates we received and found the experience to be friendly, professional, and expedient.
"Companies today are faced to come up with creative solutions in the hunt for Talent. We have found Velocity to be a tremendous partner for us in supporting our various recruitment strategies regionally (24-hour turnaround of profiled applicants, full end to end services for facilitating Open House events, etc.) just to name a few capabilities they offer. In our dynamic organization we couldn't be more thrilled with our partnership with Velocity in helping us build our revenue."
Excellent client management relationship! [Velocity] is always available and has creative ideas for finding the best talent. When I asked the candidates about their call with the VRG recruiter they all had great things to say. Feel very comfortable having VRG represent our brand!
This was a very niche search and Velocity provided excellent candidates. We eventually had to cut off the search because we almost had too many to choose from.
"I have fired all the other search firm working on these jobs because they were not delivering candidates anywhere close to yours. I can't believe the price point of this!"
[Velocity]'s team went above and beyond funneling candidates over to me in a quick amount of time. This was a very niche role here at Verizon and our [Client Manager] really came through with top tier candidates that were involved in 2nd and 3rd round interviews with senior leadership.
Incredible service, fantastic candidate quality and an attention to detail that surpassed my expectations. While I understand the system is somewhat automated, the personal delivery of information and assistance given by Cynthia is 1st class, I will be using Velocity again with zero hesitation.
Great candidate search results with high match percentage; Actively reaching out to candidates to get candidates' interest has been a big help!
"The process was extremely professional, streamlined and identifying the right candidates to match the position was a breeze. I'd definitely work with Velocity again. You guys were awesome!"
VRG offers a great resource for any company of any size! They are a quick phone call away and work quickly to help your recruitment team. I would highly recommend them!
The Velocity team has been a pleasure to work with all around and I will not hesitate to hire them again for our sourcing needs!
"I have worked with Velocity Resource Group on difficult to fill roles for over 15 years, and have never once been disappointed. They start by taking the time to truly understand our business, and our unique needs, and develop, in partnership with our team, the right sourcing plan. That is followed up by regular communication to fine tune results and keep the project on track. Additionally, their rich technology platform, provides not only immediate benefits but becomes part of our long term recruitment marketing and pipelining strategy. The Velocity team provides better results, faster, and more cost effectively than any other source for our hard to fill roles, hands down!"
Velocity team has been fantastic in finding the right profiles for our needs. Within the competitive environment for digital talents like today, they have various sources to provide qualified, interested candidates. The ROI of leveraging a service like this is also higher compared to commission based search agencies.
[Our Client Manager] from Velocity was an incredible sourcing partner. She was always available with any questions that I had, and she truly took the initiative to drive the process forward from her end! This is something I so appreciated, especially in our hectic day to day lives! We also secured an amazing hire, and got a qualified list of leads to campaign out in the future!
Really great support! Fast finetuning on profile and creation of candidate funnel with close follow up on selected potentials until successful closure. Really good job!
Velocity is a great partner in the search for IT Teammates. Thank you, Velocity, for your outstanding efforts!
Xylem always enjoys partnering with Velocity on sourcing top candidates and appreciate all of their dedication to finding us qualified potential hires!
The quality of the candidates and how quickly the Velocity team initiated and communicated with candidates allowed us to hire qualified employees who were able to effect positive results right away.
It was a great experience using Velocity. As a recruiter, we spend a lot of time sourcing and reading resumes. It is nice to be able to speak to the candidates that are already interested in the position. It's also nice to know of the candidates that are happy in their positions and want to be left alone. Our project manager Nate is awesome!!
Velocity's recruitment process is very targeted, yet agile, and provides a plan which is executed perfectly. The team is well connected at all points and informs the hiring team on each step and is very responsive with feedback and suggestions.
I really appreciated that [the team] thought outside the box when we were close to closing our campaign but didn't have a "sizzle" candidate. They worked with us past our deadline and helped us build up our candidate pipeline even more. Much appreciated!
The Velocity team provided excellent value for the cost! The team provided excellent communication and documentation and ample information to take back to our hiring teams.
I've worked with Velocity at two different organizations – and had a great experience both times. Thank you, Velocity, for the partnership and for helping us find our newest team members!
Loved the customer support from our client manager There was always open communication and partnership in helping us find talent. We filled 4 of 6 critical openings with Velocity and would absolutely use them again in the future.
Very easy to work with and a very friendly group to work with. Lots of Candidates to work with. Would use their service again in the future!
They are an amazing team who take time to figure out your needs and offer guidance along the way. Fantastic to work with!
"The quality of the talent, the Velocity process, and the team's pure passion to help us succeed was truly felt. Our credit union is especially thankful for our partnership with Velocity because the leaders who have joined us are a perfect fit for Publix Federal Credit Union's mission to serve our employees and our members to the fullest."
Our Client Manager and the team were amazing, very insightful with feedback and great communication all the time whilst working together. Look forward to working with [Velocity] again.
Thank you!
[Our Client Manager] has been an absolute joy to work with. This is my second project we have teamed up together on and I love their upbeat positive energy as well as direct strategic approach. [The Team] always keeps me updated on any new leads or any movement and display nothing but total professionalism. Velocity gives 110% on all projects. I have yet to have a bad experience with Velocity or any of its reps and I do not foresee having any in the future. I will push to always utilize them as needed and recommend as often as I can.
Velocity is professional and thorough, which made the collaboration go well and able to identify good candidates for consideration. The tool that Velocity uses is easy to navigate and provides a valuable summary on the candidates for assessment. Overall, great experience!
Our Velocity experience has been exceptional. Very professional group with detailed data to support each project. Velocity will be a company we partner with in the future for other projects.
It has been great working with Velocity. Everyone on the team is very organized, quick to respond and easy to work with! They have filled multiple roles for me and I am very thankful. THANK YOU!!
"As we face recruitment challenges for hard to fill positions, Velocity provides a connection to qualified candidates. They not only provide screening services, they also provide the sourced candidate information to customers for future relationship building and pipelining. These services provided by Velocity has benefited our organization and had positive outcomes in our recruitment efforts that are essential in today's market."
AutoZone appreciates [Velocity's] partnership in helping us reach new talent. This was an easy process due to prescreening being done and [ResFlex] was user friendly in reviewing the candidates. Look forward to future partnership again!
"Velocity's non-traditional model produces almost unbelievable results and their team is accommodating, understanding and very, very good at what they do. They create a true partnership that becomes an extension of your team."
Our [Client Director] and the entire Velocity team were a pleasure to work with!
Client Success