First Things First – Why is Company Culture Important?
The culture of a company might as well be called its lifeblood. It can be a large factor in what drives your team to perform their best! When it comes to Company Culture, there are many ways to go about maintaining a good one. Company Culture is so important because the connection a team has with itself affects the connection a team has with their work! In fact, according to Gallup, highly engaged employees are 17% more productive. But, globally, 85% of employees worldwide are not engaged at work. That's why, whether through fun activities with our team, shout-outs for accomplishing goals and milestones, or bringing food in to share with the office, Velocity is a place where the satisfaction of our team is very important no matter where we are! In this article, we are going to share various practices that have helped us uphold the satisfaction of our team!
Table of Contents
Monthly Recognition
One of the biggest events we hold in the office on Fridays is "Mad Props". An event where at the end of every month we open the beverage fridge, the team gathers in our large conference room, and we go around and recognize someone that went the extra mile for you that month. Mad Props is something that always brings the team together and allows us to close the month on a positive note! It's a fun and casual way to celebrate small and big milestones and accomplishments in the short term, instead of only focusing on long-term goals. Small milestones like that, or the displays on the TVs have been proven to significantly increase company culture within the business as well as drive the team to reach their goals faster! An example of a mad prop might sound something like "Mad props to Steven! I was trying to reach this candidate that the hiring manager loved, and he helped me alter my messaging and voicemail and the candidate finally got back to me. Thanks, Steven!" Something like that is perfect, casual but shows your thankful for something someone did that might have been small but still worth recognizing!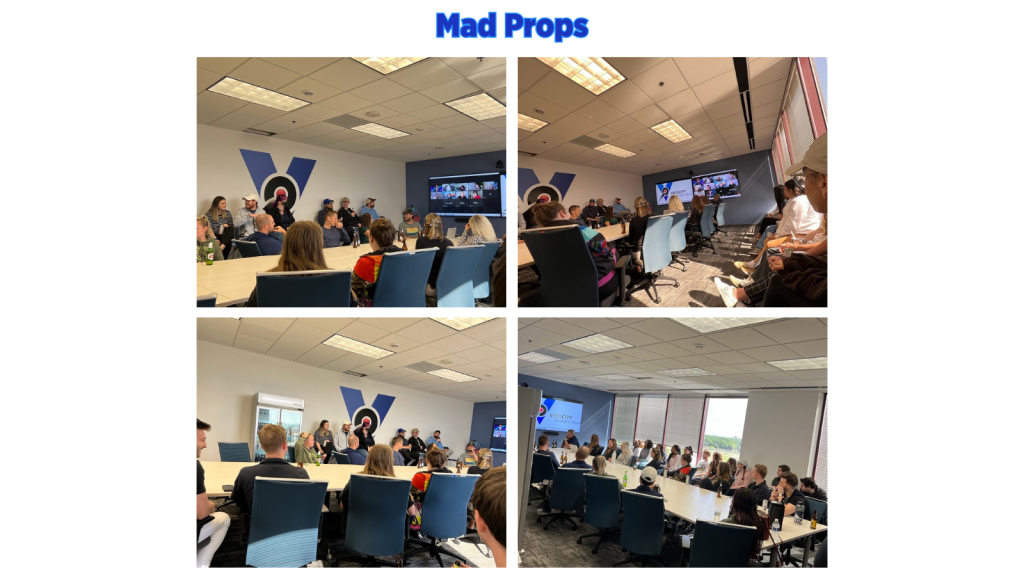 Internal Newsletter
At Velocity, we also have our own office newsletter called "The Source"! Having an office newsletter, we have found, is great for establishing a larger connection with your team. It allows the team to learn more about their co-workers. We share things like hobbies, talents, travels, big life events, etc. Having a space for your team to share with their peers strengthens your team. By learning more about each other's lives outside of work, relationships between coworkers become stronger and it creates a sense of community. However, this isn't the only reason we have the newsletter! We also use it to celebrate birthdays, anniversaries, and upcoming events. We also have a section where we share all the fun and interesting things going on in the city, to encourage the team to enjoy their time off and connect with their community.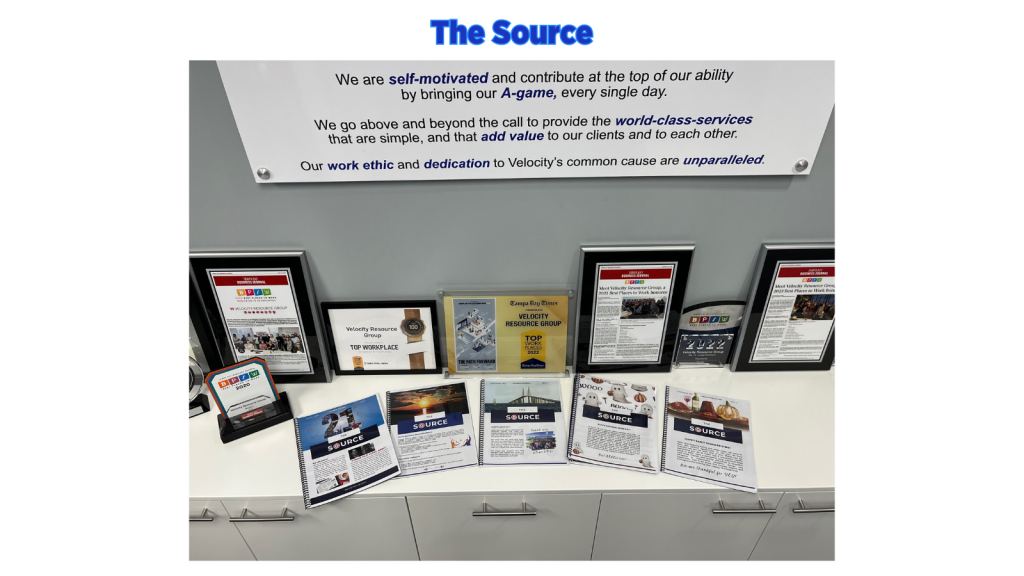 Open Door Policy
Another of the largest qualities that add to Velocity's quality Company Culture is its Open Door Policy! Velocity is a place of business that doesn't just welcome ideas, but it invites all members of its team to contribute. People here are free to ask for opinions, advice, or knowledge. "Every employee is encouraged to bring ideas, feedback, challenges, and speak openly about whatever they need. We understand that everyone has a personal life outside of work so genuinely listening and making accommodations leads to a healthy work/life balance." – Brittany Rice, Recruitment Director.
Friendly Competition
We are big fans of some friendly competition in the office. For example, for a while, we had a weekly row competition for the most interested candidates where the prize was that the row who had the most for the week got to go to lunch with their manager. We also showcase the top three team members for monthly, weekly, and quarterly stats all around the office in the TV's! This helps in two ways; one, it's a small celebration that occurs each week and two, it provides a goal for your team to work towards! Another way we encourage friendly competition is through trivia games. We do it in 2 different ways, we have short surprise trivia via our companywide Team group chat, or we get together in person and play different games on Kahoot. We absolutely love playing a trivia game called "Baby Picture Trivia" on Kahoot. Each member of our team submitted their adorable baby photos, and it became a delightful challenge for everyone to guess who each baby grew up to be. Fun things like that build an enjoyable environment that encourages the team to stay competitive and driven.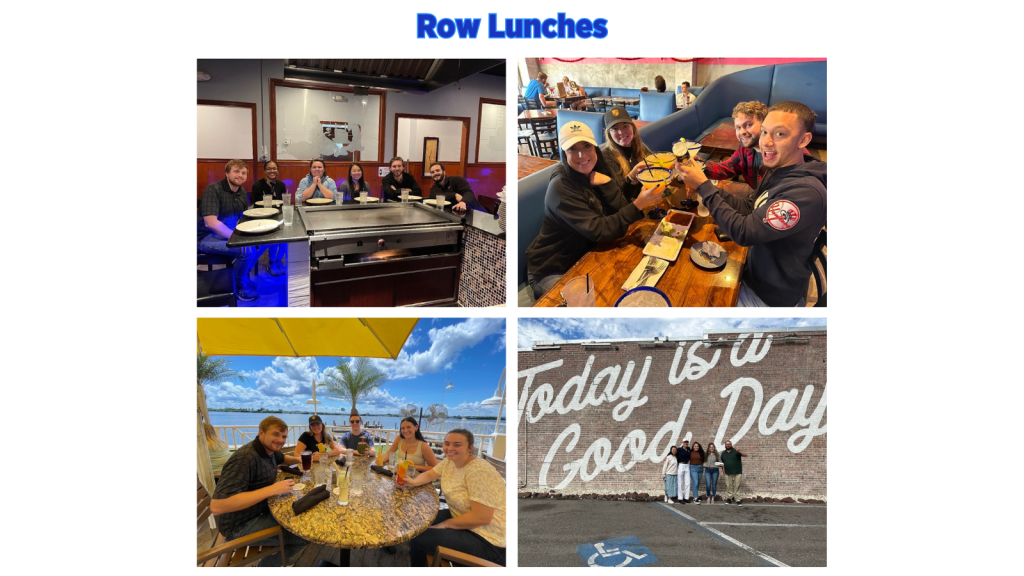 Company Wide Meetings
Three days out of the week we have company-wide meetings to highlight jobs, surveys, and announce everything going on! Whether it is to talk about new clients, assign jobs, recognize birthdays, and anniversaries or share our weekly stats. We always make sure to bring it up at the morning meeting! "To align our efforts and keep everyone abreast of market trends and our collective goals, we convene as an entire team every Monday, Wednesday, and Friday. These meetings not only energize us for the daily tasks but also ensure our expectations are aligned for the day or the week." – Kelsey Yackle, Director, Client Services.
Incorporating Wellness
To help with Company Culture, encouraging good wellness amongst your team might want to do some fun activities to increase their physical and mental wellness! Going back to our love for fun activities, something like a steps competition that we do may be just what your office needs to get people moving! We've got a fun competition lined up with three different events for a whole month of excitement! First up, we've got the "Weekend Warriors" challenge, where it's all about racking up steps during those precious weekends. Then, during the workweek, we've got the "Weekday Warriors" event to see who can conquer the step game from Monday to Friday. And finally, we'll crown the ultimate champion of the "Step Showdown" by tallying up everyone's steps for the entire month. Other things like standing desks or some kind of system of weekly activities like a meditating session or a stretch class to do during Wellness Month may be the missing pep in your company's step!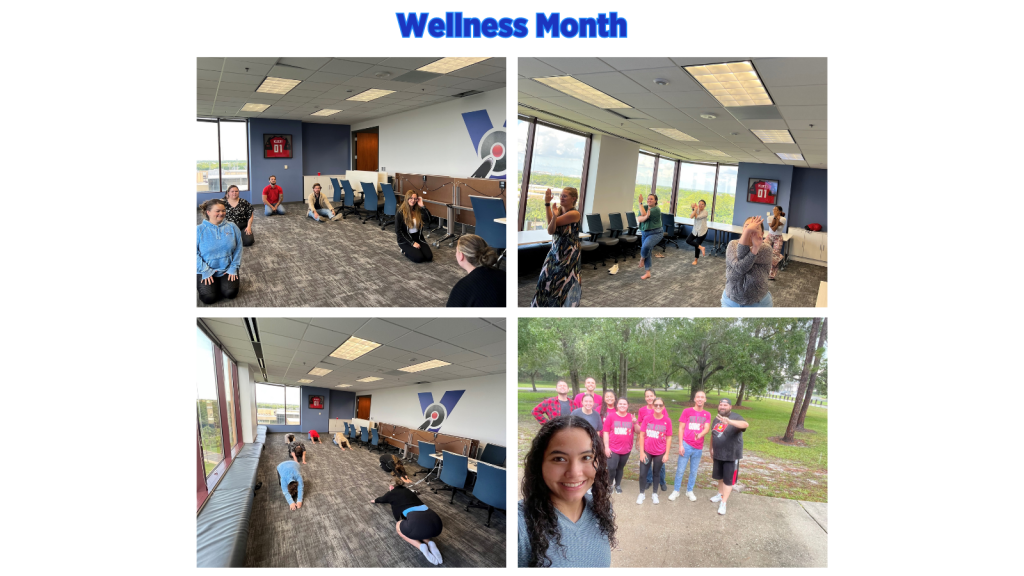 Out-of-Office Activities
Just because you're not in the office doesn't mean you can't build up your Company Culture! Get your team involved in events like something we have here in Tampa, called "SportsFest". Other things like volunteering, a 5k race to support a cause, happy hours, or starting an after-work sports league! Whatever sounds most pleasing, outside the office is just as good a place to increase your Company Culture as inside! Among all the events, our team absolutely thrives during SportsFest – a fantastic team-building extravaganza held right on the beach! What's great about it is that you don't need to be a sports prodigy; all you need is an abundance of team spirit. Picture corporate teams basking in the sun, engaging in exciting competitions like beach volleyball, dodgeball, tug-of-war, paddleboard relays, and even corn-hole/bags tournaments.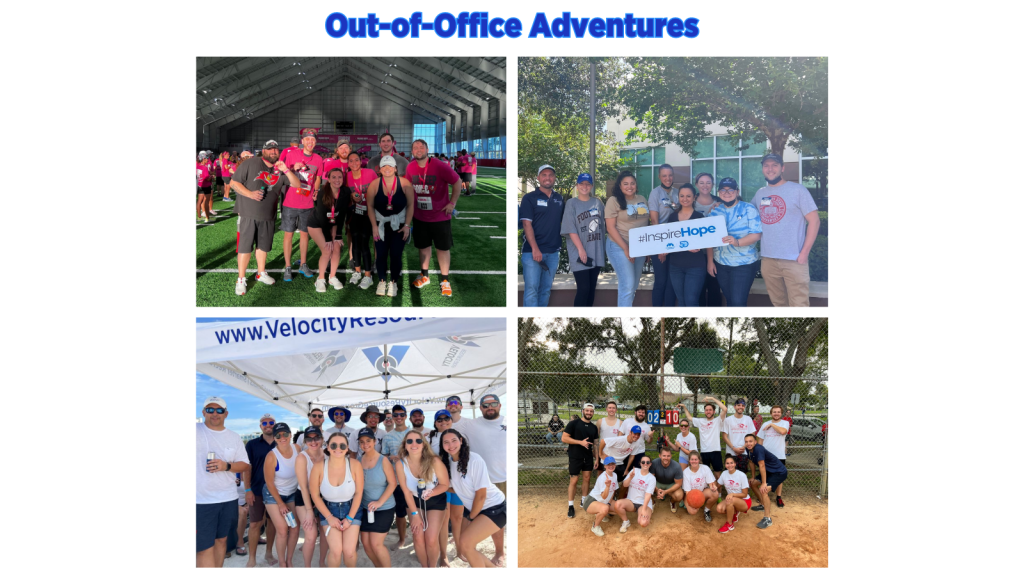 Accomplishments & Rewards
Rewards systems for going the extra mile are great for Company Culture. Things like commission for hires and bringing in a client, or an end-of-the-year awards ceremony build strong connections with you and your team. Regarding accomplishments, it is important that the big-picture accomplishments are NOT your only celebrated accomplishments! Making sure to celebrate everything big or small like a daily gong for hires, weekly employee spotlights, or highlighting surveys, or testimonials keeps your team motivated and goes a long way in not only making work a more fun and competitive environment but also a place where they know they have purpose!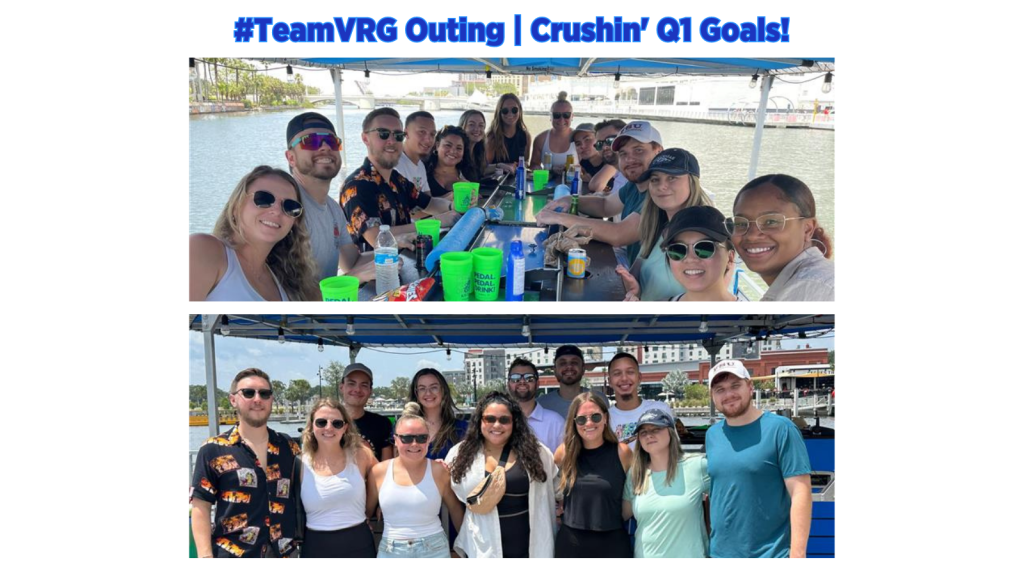 Holidays
Finding various activities or competitions to involve your team in multiple holidays is a super fun way to build a stronger sense of culture! Things like egg hunts, desk decoration contests, pumpkin decorations, potlucks, and even celebrating silly holidays (which there are plenty of) like national pizza day or celebrating the beginning of Summer with ice cream shows care for your team and build that family-like environment we all know and love! We try our best to ensure that the holiday season is an absolute blast, filled to the brim with joy and festive spirit. Throughout the year, whether it's Halloween, Christmas, Thanksgiving, or any other special occasion, we make it our mission to keep our team motivated and in high spirits. We create memorable experiences and delightful surprises, fostering a sense of togetherness and celebration that truly sets the tone for these special times.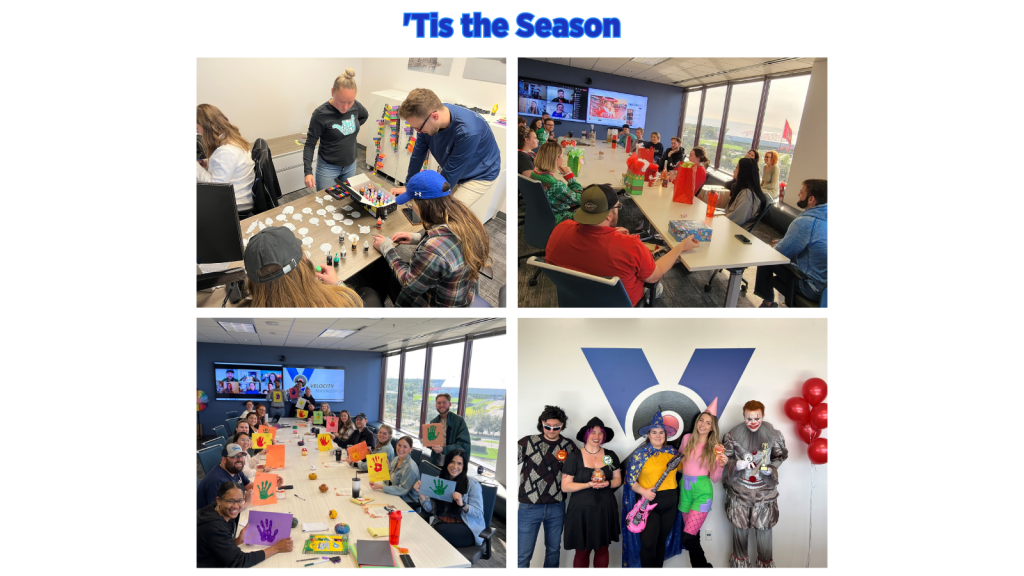 Now It's Your Turn!
In looking at all the different ways in which a company like Velocity approaches the task of Company Culture, it is safe to say that the time is now for you to go out and prosper the company culture from your own place of business! From company-wide activities to outside get-togethers, there are so many ways in which you can go about approaching this and it is always exciting to see your team having a great time, feel good, or feel proud and establishing that amazing culture is a wonderful way to accomplish all three! These different approaches to building a strong company culture are not the end-all-be-all, but they are a large assortment of diverse activities, both big and small, to get your team involved and to establish it both as a community of hard-working individuals and a family.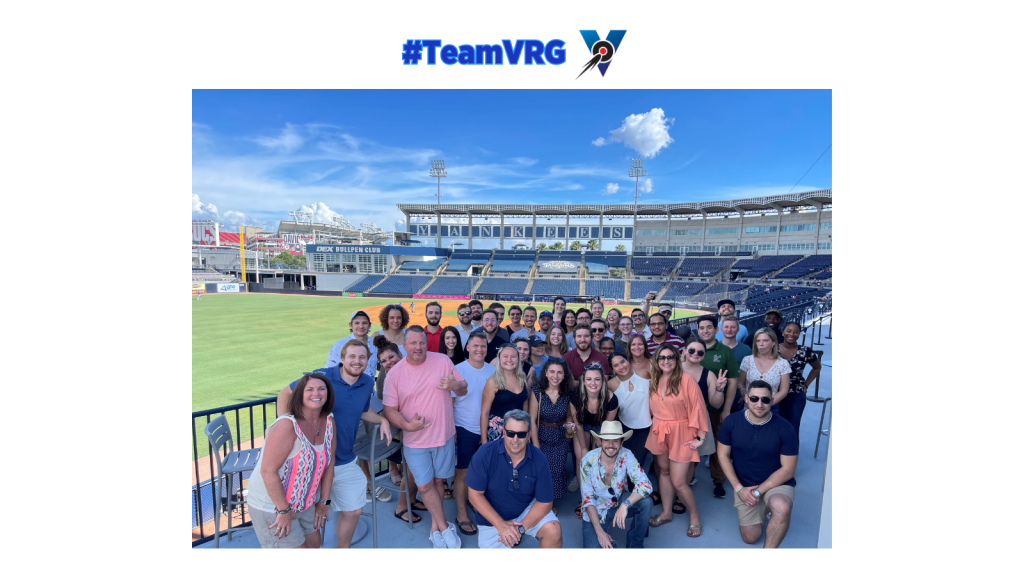 ---
Velocity Resource Group assists recruiters in the identification of qualified, available, and interested candidates. We source talent across multiple platforms, review resumes, screen candidates, and place them for you. We have over ten years of experience in attracting the best talent in the healthcare, hospitality, retail, technology, manufacturing, logistics, and supply chain sectors.
Call 813-586-1700 or email info@velocityresourcegroup.com to schedule a free demo.